I get the inspiration to cook like the monsoons in Bangalore. Somedays there is nothing - zilch, a very dry spell. Whatever the cook makes, we shall eat. And on other days there are heavy showers of motivation and an intense desire to cook something. Last week we had one of those heavy shower days and the after effect was very pleasant and mouthwatering.
And I started watching Nigella Kitchen recently so am inspired all the more :) Cheers for Nigella Lawson, the hot sexy mama who cooks awesome food.
I collected some of these beautiful coloured veggies and roasted them in the oven.
I added these for some tangy yummy flavours.
Pulsed them in the mixer and
made this hot tangy roasted tomato and capsicum salsa.
What's salsa without some nachos? Umm, yumm and like N says "Yummy in my tummy" combo.
But that couldn't satisfy my sweet tooth. So, I took these ingredients (in pic below) along with some butter and sugar.
And made these simple, flavourful and melt-in-your-mouth cookies.
If you need exact recipes or process, let me know, will share.
Linking this in to Patty's Weekly Party and Tanya's Tea-Time Thursday!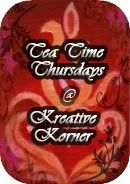 Happy Monday!!
Edited to Add - Here is the recipe link for the cookies (It is by Rachel Allen) - http://www.lifestylefood.com.au/recipes/8947/basic-cookie-recipe
I modified the basic version, slightly, by adding Hersheys cocoa powder and reducing the amount of plain flour to accomodate the cocoa powder. You can go light or dark based on taste and colour preference. I added some crushed walnuts too. And ofcourse I did not want to make 35 cookies, just a trial sized amount so I reduced the quantities by 1/4.
Happy Baking!
The salsa was as simple as the pictures show - just roast/grill the veggies (tomato, onion, capsicum, green chilli (as hot as you want) and garlic) in the oven/microwave (use grill mode). Then blend them along with the coriander, lemon juice, salt and some cumin seeds. Now dig in with some nachos (for the ideal combo) or some chips :)