I am a VERY big paper hoarder :) At any point in time you will find at least 10 wrapping paper sheets (in all kinds of sizes though) at my place. This weekend was loads of fun, more so because I bought some more paper. Yay!!
Friday we met up friends for dinner, Saturday I took mom and N to Mother Earth on Inner Ring road. I wanted to pick up some Tulika books, especially bilinguals, for friends and family abroad. N had a great time - plonking himself on the sofa next to the bookshelves and browsing through all the books. He kept pointing out at books that he had at home saying "Mamma, look, my book!". I got some great books and a golden metal Buddha bust (a separate show case coming up for that one). Mother Earth has a sale going on and you should check it out. There are some things available for a steal.
Sunday was a relaxed day. S and I took off to watch Rise of the Planet of the Apes, with my mom babysitting N. And I am so proud of N. As he's growing up he's listening better and being a great guy overall. He very nicely took in the news that dad and mom will be going out for some time. According to my mom he played with her, solved a few floor puzzles, had his lunch, watched a cartoon and then napped. Love you baby!! S and I grabbed a drink after the movie like the good 'ol days and felt happy just chilling out.
Now to my love for paper. This is what I have currently.
I have all sorts - the formal prints to the funky and weird ones.
I picked these 2 sheets (from the right) from Mother Earth yesterday (they are from Chumbak). You can pick them at Orange Bicycle also. The alphabet one is from Landmark, Koramangala and is a cute thingy for wrapping those little one's gifts.
These assorted sheets were picked up at various places. The topmost pink, purple, off white and red were a set of 5 sheets with gift tags from Crossword Koramangala.
The grey and purple satiny smooth was again a set of 2 sheets of paper + 2 gift tags and 3 mts of ribbon by Etcetera (picked from The Orange Bicycle store, couldn't find Etcetera online. If you know their website or FB page please let me know).
I also keep some tissue paper sheets (its very thin bright coloured paper) to stuff in gift bags. Some of the colours are really bright but they look good in neutral or pastel coloured gift bags.
I also like gift tags, ribbons and other gift wrapping accessories. These are my latest buys - The elephant gift tag/card is from Haathi Chaap and is made from recycled elephant poo. Don't worry it is completely hygienic :) I picked it from the Dastkar Bazaar.
The one behind it, along with the pink sheet at the bottom, is from Temple Tree. I picked this at a Christmas exhibition last year and still haven't the heart to part from it ;)
Check both these out, they have a lovely collection of products. If you are a paper lover, you will definitely drool :)
Linking in to Patty's Weekly Story party and Tanya's Tea-Time Thursdays party.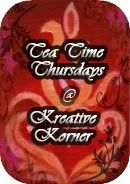 Happy Monday!!!